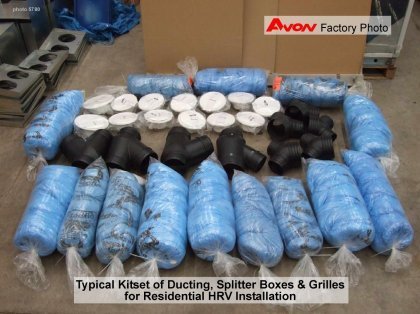 When installing the CLEANAIRE HRV, fully insulated flexible ducting is required to evenly distribute airflow throughout your home.
Ducts are usually hidden inside the ceiling space and networked throughout the house.
All you see in the rooms are the air vents.
Depending on which CLEANAIRE unit is recommended for your residence, fully insulated ducting will be required in 150mm, 200mm and 250mm Ø sizes.
What Size Ducting?…
There is not a huge difference in price between common smaller duct sizes, (as used in residential HRV installations). The larger the ducting diameter, the better the airflow performance of the HRV, and the quieter the air flow noise. So make it a basic principle to ALWAYS install the largest size ducting to run as far as possible from the HRV. Only reduce ducting down to smaller sizes at the "take offs" to rooms where smaller ducting is appropriate, as close as possible to the final ceiling terminal outlet / inlet. As an example, the CL200 models have outlet spigots designed to accept ducting that is 200 mm diameter. Plan on using as much 200 mm diameter ducting as possible. Then reduce to the shortest possible lengths of 150 mm ducting to each air vent/terminal.
Ducting Basics…
For all standard Cleanaire domestic installations, we recommend installing 150mm dia (or equivalent) air vents for each indoor supply and exhaust terminal.  In some instances a larger size of 200 or 250mm may be required, however for the majority of homes, 150mm dia vents are suitable.
The ducting installation has to be capable of ventilating each individual room at the rate of .35 air changes per hour, and small ceiling terminals (say 100 mm diameter) have a limitation as to how much air can pass through.
All ducting must be installed fully stretched "out" so that the internal surface is as smooth as possible, to minimise air flow resistance.
Ducting must not be "bunched", or have very tight bends. Bends must be "sweeping curves" and keep the number of bends to a bare minimum. Bunching, and tight bends cause significant air flow resistance, and may cause the HRV to under perform.
All ducting should be fully insulated.
Indoor Diffusers
150mm round adjustable supply and exhaust diffusers are placed in each room of the house, the ideal locations for these are determined by your supplier to ensure a satisfactory air distribution flow will be achieved.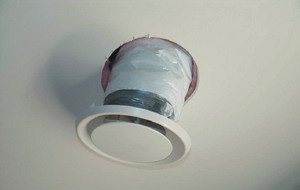 Partially Installed Ceiling Diffuser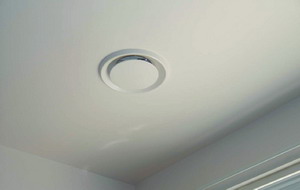 Installed Ceiling Diffuser
Outdoor Grilles / Gable-End Hoods / Cowls
An outdoor supply terminal and an outdoor exhaust terminal is required. Depending on the type of roof and construction detail, these may be: Round Soffit Grilles with Bug Mesh, Gable End Hoods with Mesh, or Thru-Roof Cowls.  We will advise as to the best option for your home.  Outdoor terminal size is determined by the reccomeded unit for your home.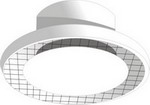 Round Soffit Grille with Bug Mesh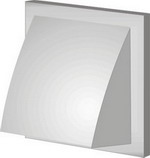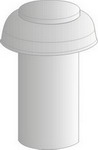 Email: info@avonelectric.co.nz
Products are New Zealand made by Avon Electric Ltd.
Avon Electric Ltd
P.O Box 19748, Christchurch 8030 
Ph: 03 381-5595  - Fax: 03 381-5596